A quick guide to starting browser automation
Step 1 -  Download the Multilogin app and create an account
In order to start using Multilogin, you can simply download the app from our website here. Once the app has been installed, you can create a new account in the app by clicking "Create new account link".
Once you are in the app, you will need to choose the plan that suits your needs and proceed with a purchase through Subscribe now button. In order to gain access to Multilogin API, you would need to subscribe/apply to our Scale or Automate plans.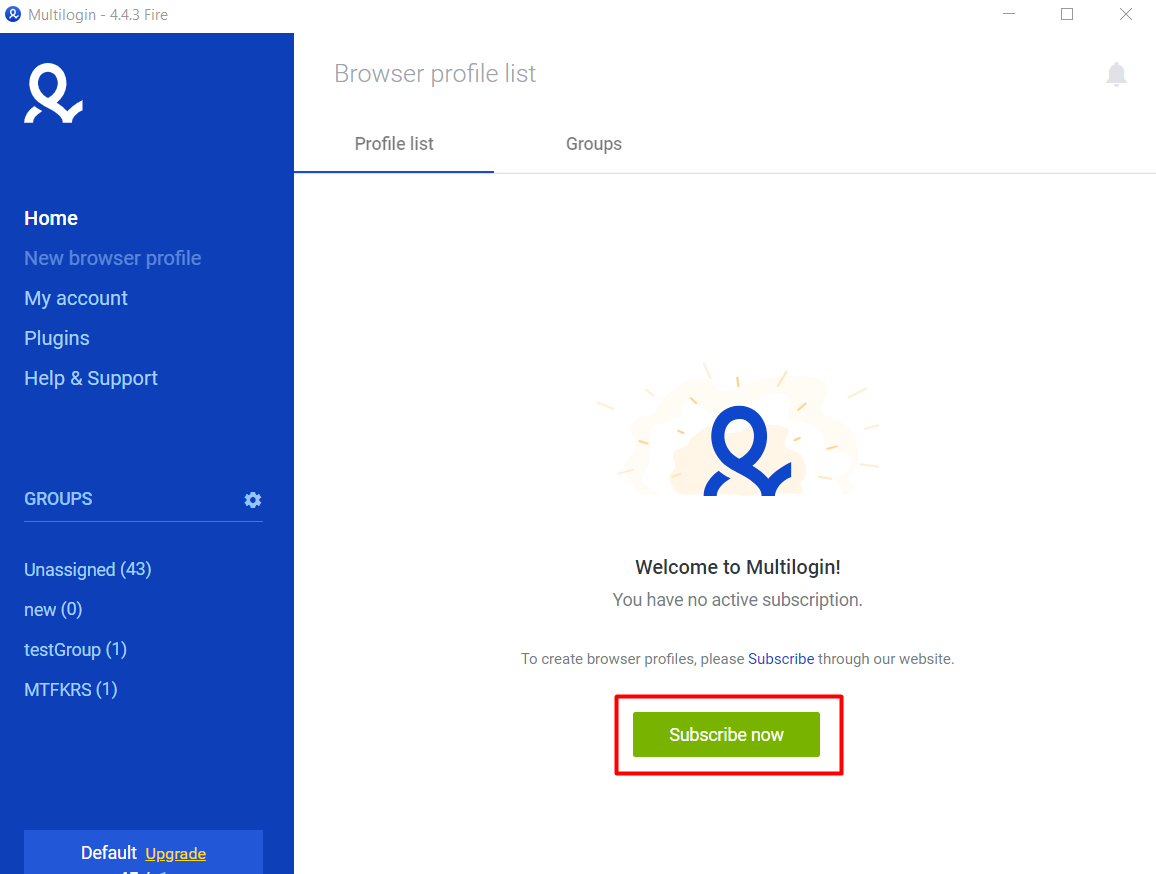 Step 2 -  Predefine the application listening port
Once your Scale or Automate subscription is active, you would need to predefine the Multilogin listening port in app.properties file so it will be constant on each application launch. In our example, we will be setting the port to 35000.
Open the Multilogin application:
Please go to 'My account' tab in the application and press 'Open logs directory'
 /.multiloginapp.com/logs directory will be opened, go up in the directory to get to the /.multiloginapp.com
Open the app.properties file
For our example, add the following string: multiloginapp.port=35000
Save the app.properties file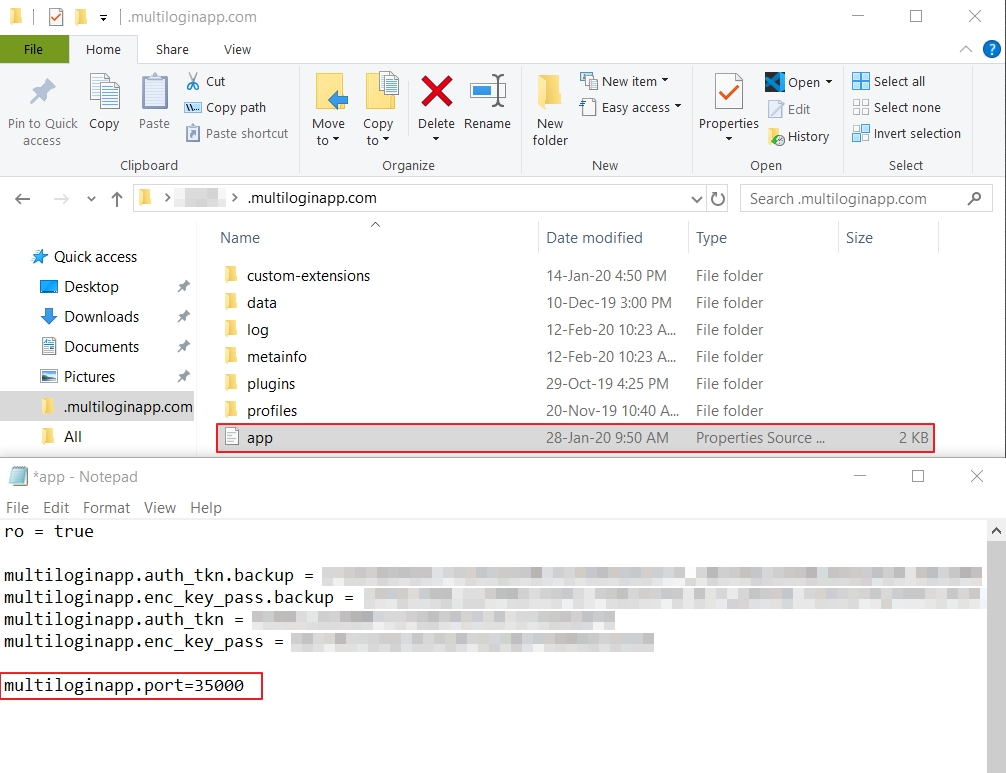 Alternatively, you can find  app.properties file in the .multilogin.com directory:
Windows: C:\Users\%username%\.multiloginapp.com
Mac OS: /Users/%username%/.multiloginapp.com
Linux: /home/%username%/.multiloginapp.com
Note: The folder may be hidden in your system.
Step 3 - Find your API authentication token
All REST API requests are authenticated by the user's access token (per-login basis), which is sent along with the desired endpoint. The token can be found in the app.properties file.
You need to be actively logged in the account, for which you want to get an access token.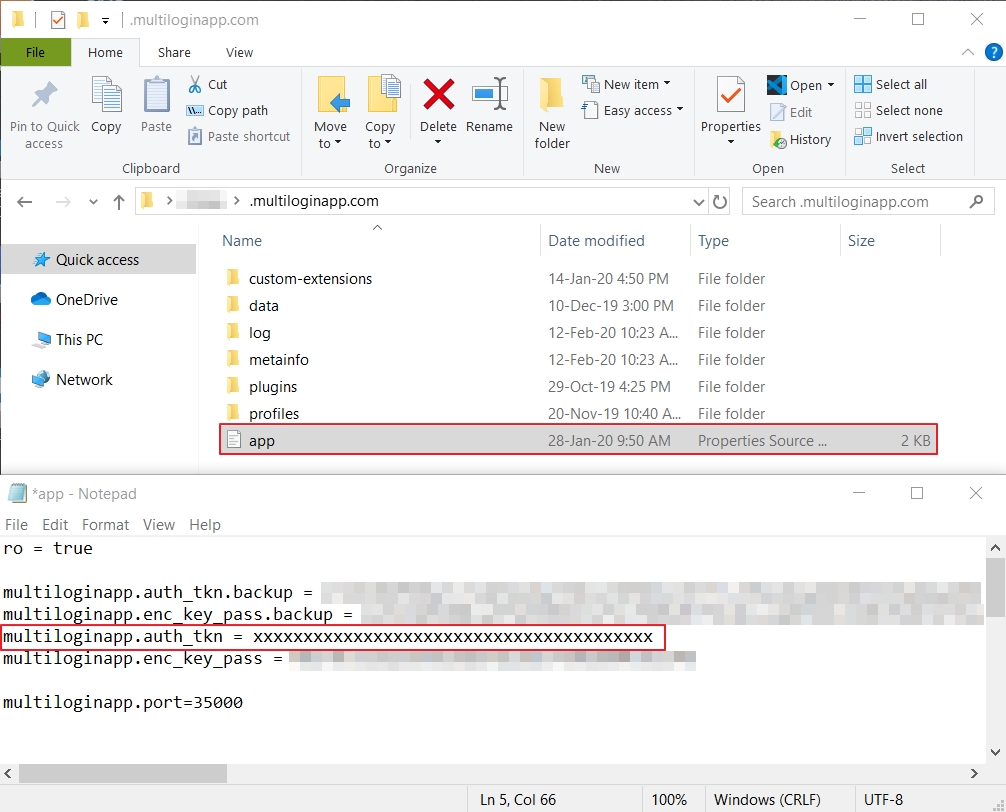 Important! This authentication token is equivalent to your account password. Keep it secret and do not share it with third parties.
Step 4 - Test our code example
Code examples of how to open the existing Multilogin browser profile and perform simple Selenium and Puppeteer browser automation:
Step 5 - Familiarise yourself with all other Multilogin REST API and Local REST API  possibilities.
More information about our REST API and Local REST API from our documentation.
All API endpoints are available in our Swagger documentation:
Local REST API endpoints - can be used in order to start, stop, share, clone browser profile/-s. You can also check if the profile is already running on your machine by using checkProfileRunning endpoint and import cookies by using cookieImportJSON/cookieImportNetscape endpoint.
REST API v2 endpoints - for creating and updating browser profiles.
REST API v1 endpoints - for all other CRUD endpoints for profiles and groups.
---
Was this article helpful?
---