Application preferences
Related articles
The page located in the "My account" → "Preferences" section includes general Multilogin app preferences as well as different settings for the fingerprint builder that are applied to your browser profiles by default. This article describes the available values and how you can alter them.
Global application settings
In this section, you can select the following values:
App language: English, Russian, Chinese
App optimization settings: select which websites you plan to work with
Profile update warning: enable or disable a pop-up on every profile update
Help widget: easily start a chat with support right from the app
Browser profile default settings
Any changes made here are applied only to new profiles. To edit the settings for existing profiles, click on the 3 dots on the right of the profile and choose "Edit".
Storage options
In this section you can enable or disable passwords, bookmarks and browser history saving for your profiles.
You can also edit this value for a specific profile in "Edit profile" → "Advanced" → "Storage options".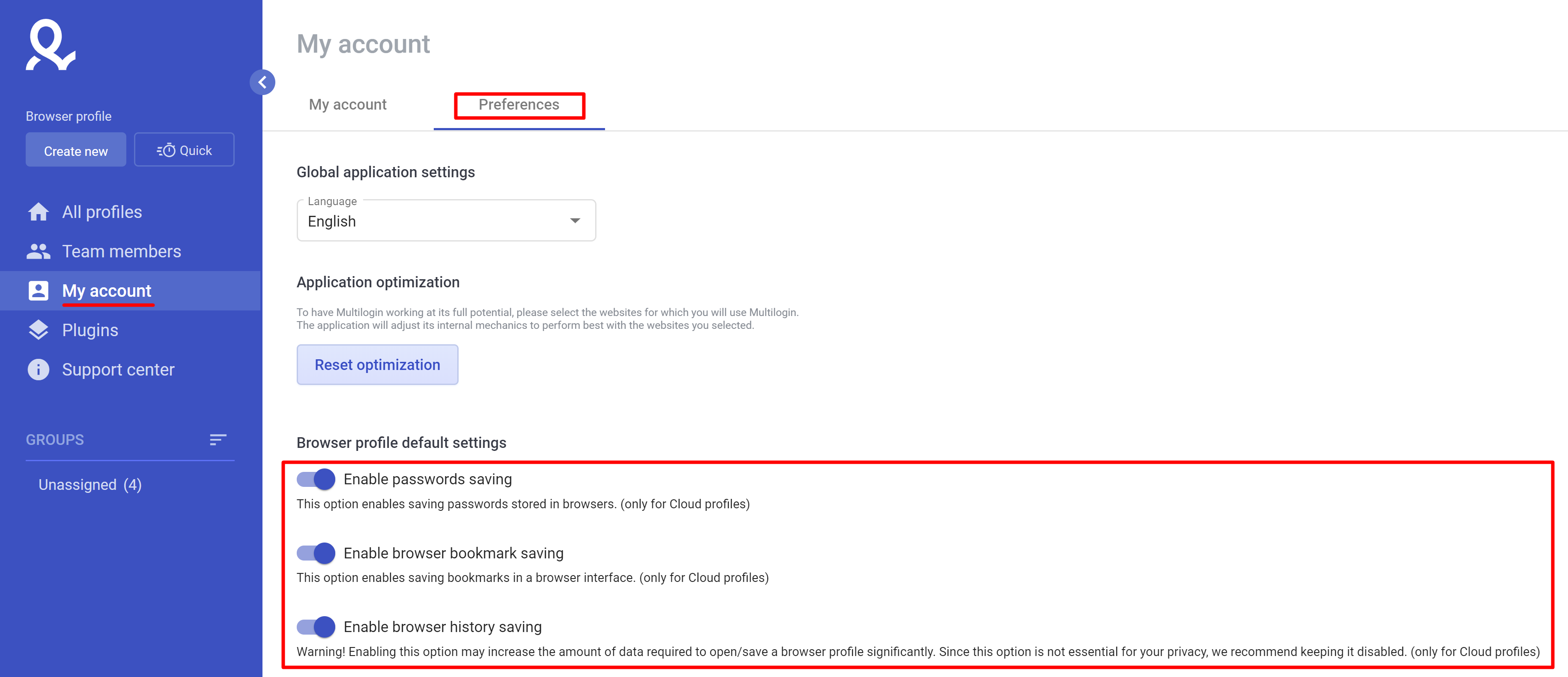 Screen resolution settings
The values you set here will determine the screen resolution (window size) of your browser profiles. The system will automatically select the value between Minimal and Maximal settings during profile creation.
You can also edit this value for a specific profile in "Edit profile" → "Advanced" → "Navigator" → "Screen resolution".
Native is your original screen resolution (check your computer's screen parameters for Windows and Mac). If you work in a team, it should be the smallest screen resolution in your team
Minimal should be something you are comfortable to work with
Maximal should not be bigger than Native

Default browser type
Here you can set which browser type will be selected by default.
You can not change the browser type after the profile is created.
Mimic is built on Chrome
Stealthfox is built on Firefox
Choosing between the two is a matter of your personal preference. If you work with Google Ads, however, we do recommend using Mimic.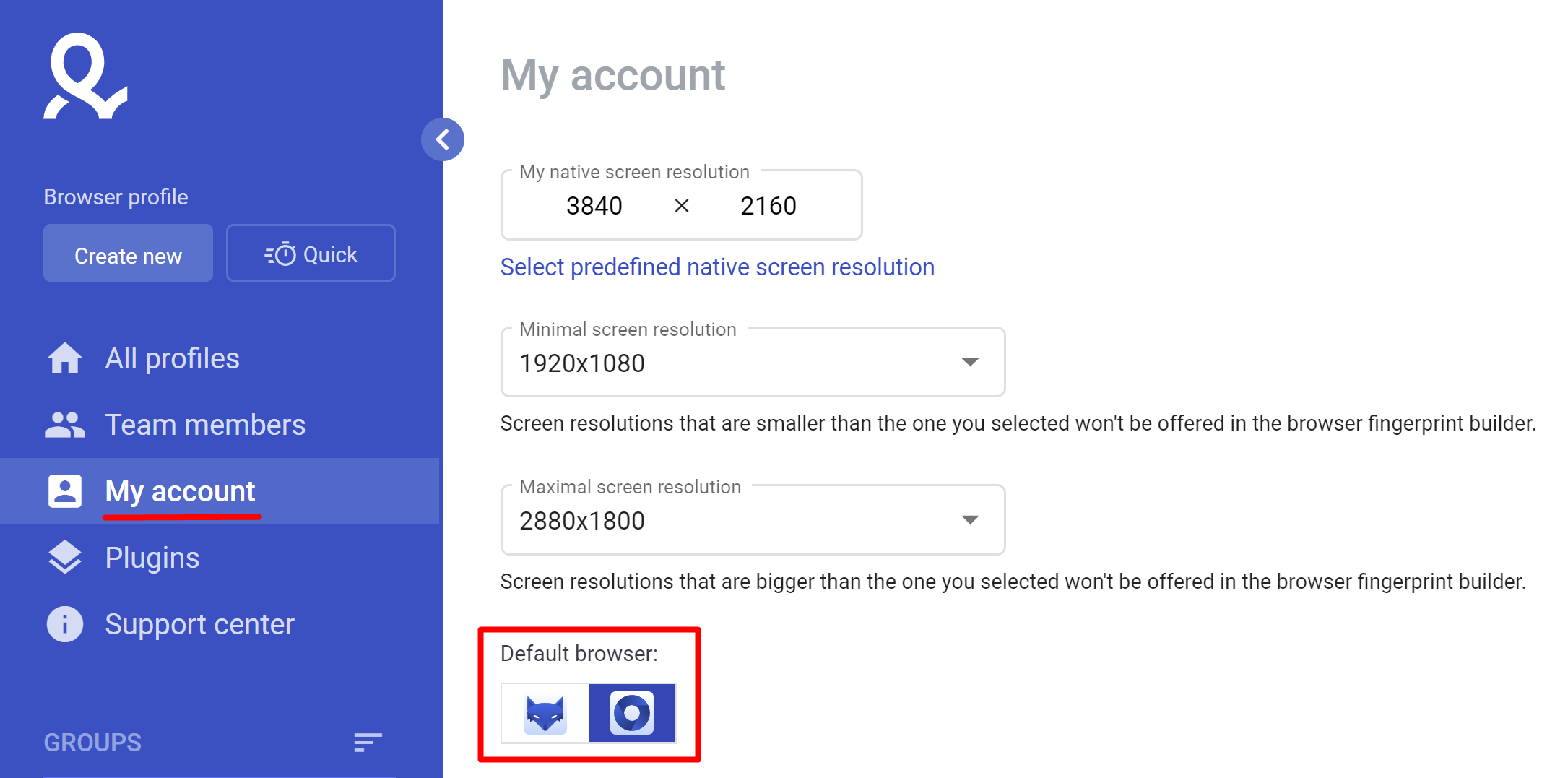 Default languages for Mimic and Stealthfox
If you would like your web pages to be in a specific language, you can select it here: click "Edit" → search your language → drag and drop it at the top of the list on the right. If a web page is available in the selected language, it will be used to display it.
You can also edit this value for a specific profile in "Edit profile" → "Advanced" → "Navigator" → "Languages".
Browser interface language is the same as your OS language. If you would like to change it, the system language on your computer must be changed first.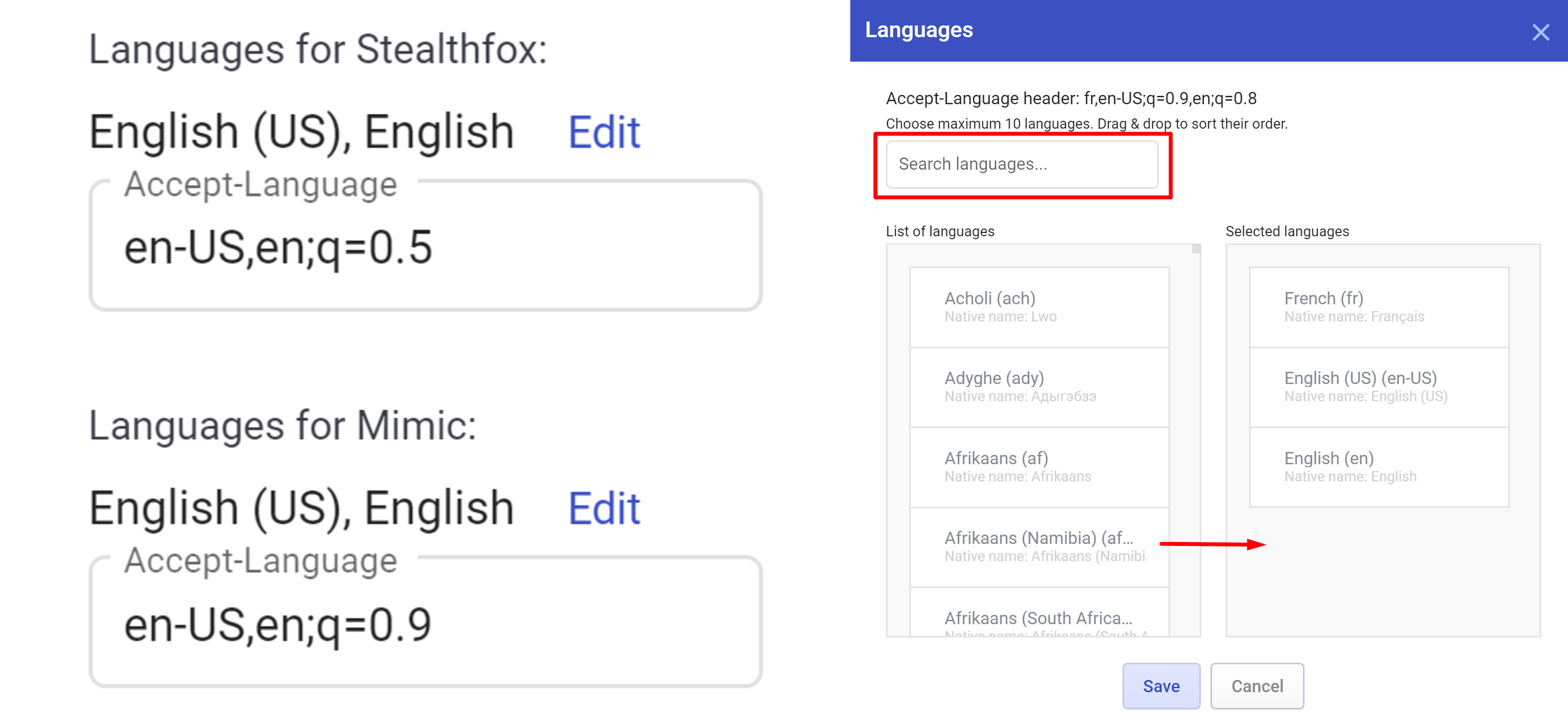 Strict mode
While the "Strict mode" feature limits the diversity of fingerprints, it helps mitigate certain browser fingerprinting vectors. For example, if Mimic core version is 90 but the newest Chrome version is 92, normally you will be getting fingerprints for versions 89 – 92. However, with the Strict mode turned on, you will only get fingerprints for the 90th version.

---
Check out our latest news, research and tutorials
---
Was this article helpful?
---