Expired Solo Trial subscription plan
The free trial is given for 10 days. The error message means your 10-day trial expired. You are not able to launch browser profiles without an active subscription.
You can upgrade to one of our paid plans from the Multilogin app. Just click on the "Upgrade" link in the bottom left corner and follow the instructions on the screen.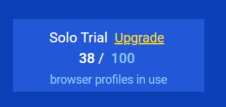 ---
Was this article helpful?
---