Multilogin X: quick start guide
Related articles
​Join our
@multilogin_chat
to discuss Multilogin X with other users and our team 😎
It's time to start your Multilogin X journey, and we are here to walk you through it! In just four easy steps, you'll have your first browser profile ready to go. If you feel a bit lost, message our support anytime to get instant help.
Step 1: Register an account
...or log in. If you have already registered a Multilogin X account during the beta stage, head straight over to step 3 of this guide.
If you are registered in Multilogin 6 as a master account holder (not as a team member), use the same email to register in Multilogin X. This will ensure seamless data synchronization in the future.
Visit app.multilogin.com and click "Register now"
Fill out all the fields and click "Create account"
Enter the verification code from your email (be sure to check your Social, Promo, and Spam folders)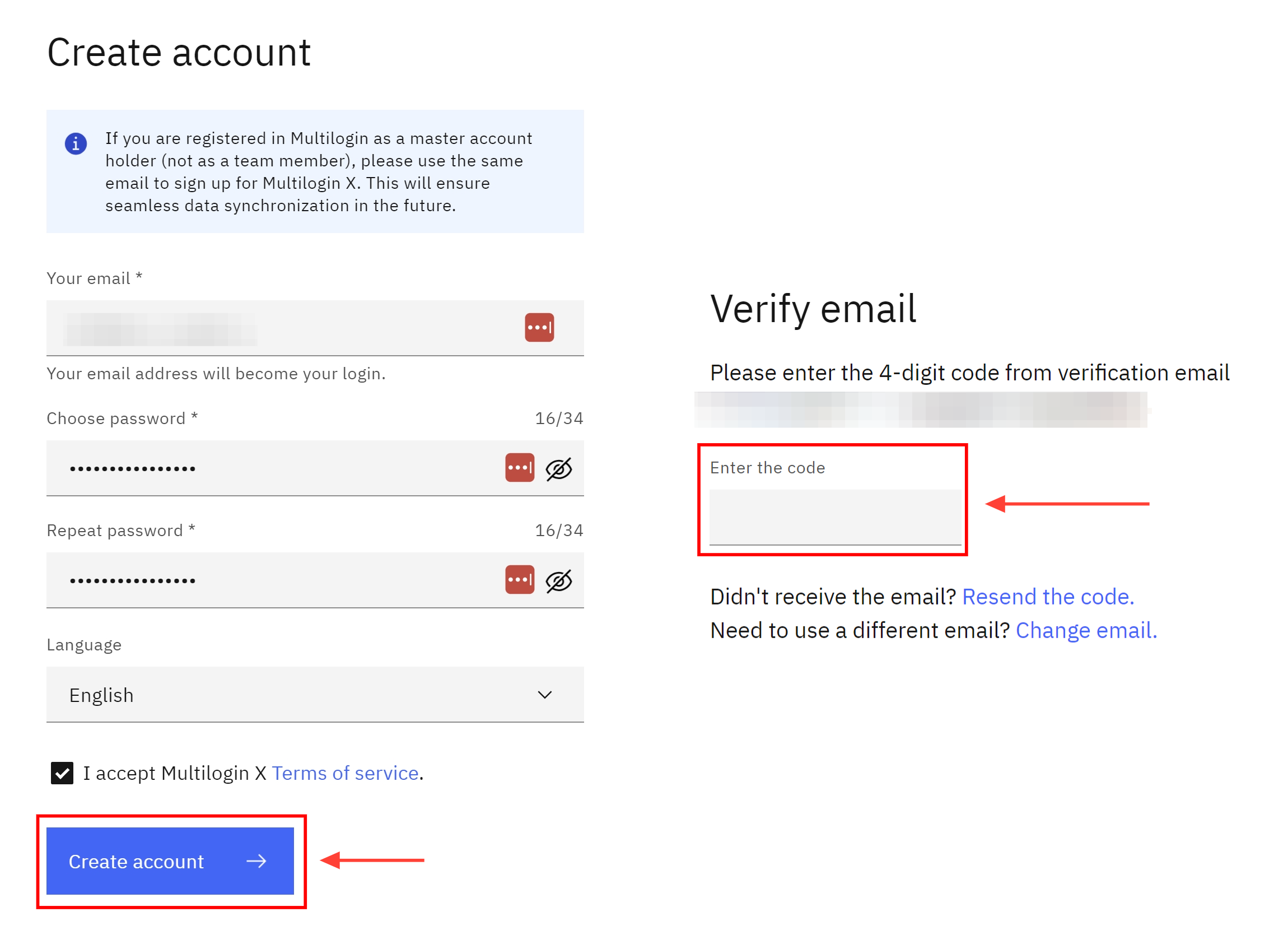 Step 2: Buy a subscription
We know, we know, ‌beta testing has ended and now there's no trial. But there is hope with our full money-back guarantee. If something doesn't work out for you, simply contact us within 14 days after the purchase, and we will issue a full refund.
Already have a paid Multilogin 6 subscription? No worries: just wait for a minute, refresh the page and proceed straight to the next step!
Click "View plans" to visit your billing area

Navigate to the "Subscription" section and choose the plan that benefits your business the most

If you want a semi-annual/annual/custom plan, 

don't choose any subscription on this step! Contact us

via chat or email 

[email protected]

– and we'll help you further.

Choose a payment method: we accept card*, PayPal, and crypto payments
*To ensure the security of online transactions, we only accept cards with 3D Secure enabled.
Pay the invoice: we have this handy guide that will help if you get stuck
Head back to your Multilogin X account and click "Get started"
Step 3: Set up an agent
You are halfway there! Now, we present to you the agent – the heart of Multilogin X that makes running profiles possible.
You will not be able to run profiles without connecting the agent.
Download the agent for your OS: if you're using a Mac, make sure you have macOS 12 (Monterey) or a newer OS version
Click the downloaded file name (for example, for Chrome you will find it in chrome://downloads/)
Follow the on-screen instructions to complete the installation
At the end, make sure the checkbox "Launch MLX" is selected and click "Finish"
Click "Launch agent" and wait while Multilogin downloads all components and establishes the connection (wait time can be longer with slower connection speeds)
You will see a message "Agent connected"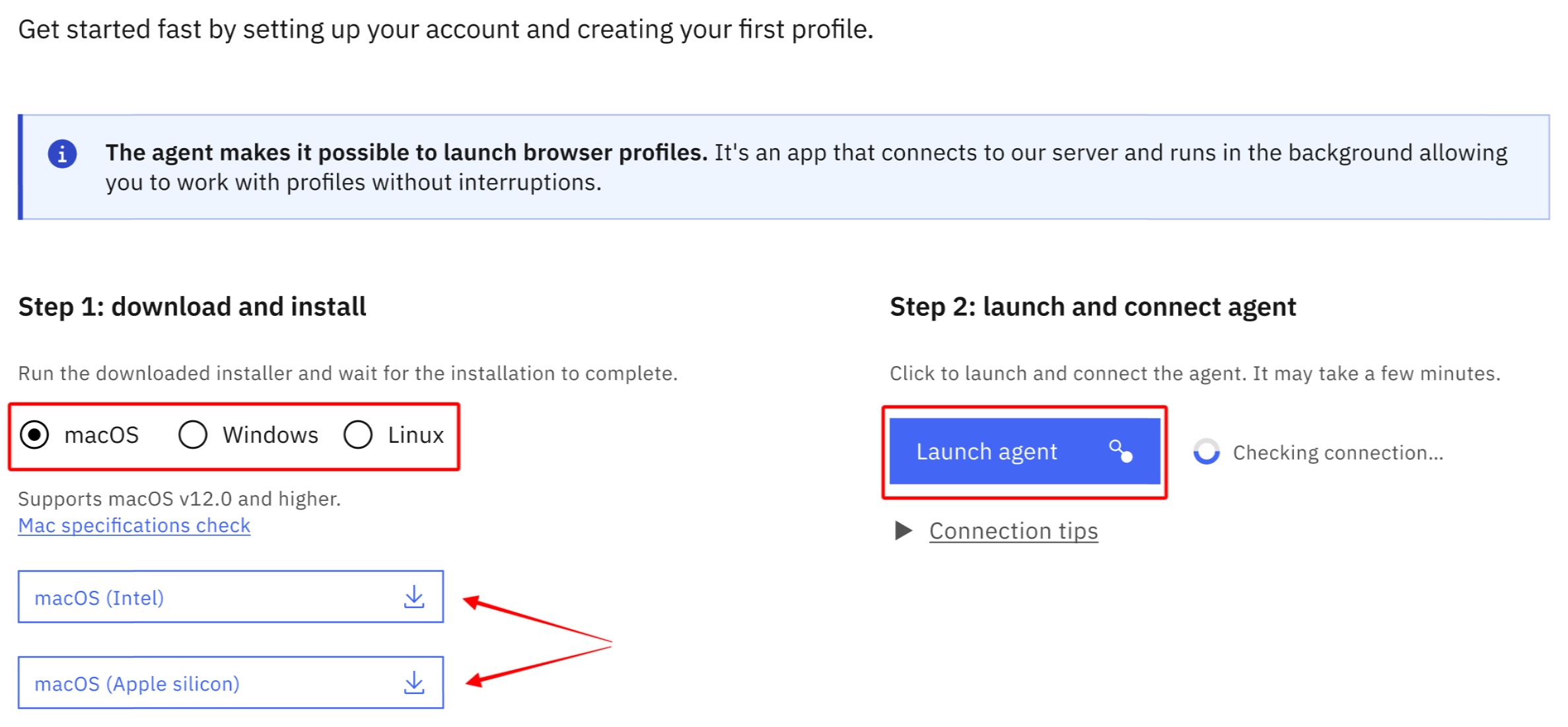 An agent connection error came up? Not to worry: this can happen if your antivirus or firewall rules are too strict. Note that our agent is a properly signed and certified app, and it's completely safe.
Try to disable your antivirus and/or firewall and repeat the steps. Later, you can whitelist the agent in those apps. If the issue is still there, contact support, and we will figure it out together.
Step 4: Create a profile
The moment you've been waiting for is here.
Click "New profile" and enter its name in the top field

Operating system: choose your device's OS for best results
Browser: Mimic is built on Chrome (best for Facebook) and Stealthfox is built on Firefox (best for Google)
Storage type: choose cloud storage for seamless multi-device access and synchronization, and local storage for exceptional speed and saving data on your device

Once the profile is created, it's not possible to change these settings anymore.

Click "Next" at the bottom and fill in your proxy details (head over to this page for more details on proxies)
Click "Create" at the bottom of the screen and then "Launch"
Wait while Multilogin downloads your browser cores: it only needs to do it once for every core release (wait time can be longer with slower connection speeds)
All other browser fingerprint settings are generated for you automatically and optimized for maximum protection from bans. But you can still alter the settings you need in the "Advanced" section of the profile creation step.
Bonus step: Elevate your strategy
Congrats! You're now on your way to becoming a pro Multilogin user. Explore these useful resources to level up your business strategy, and feel free to chat with our expert support team for advice that fits your unique situation.
---
Check out our latest news, research, and tutorials
---
Has your issue been resolved?
---