Invite & Earn: referral program
Related articles
What's the referral program?
Referral program is available for all Multilogin account owners who have been using a subscription for at least two full months.
Referral codes work for all subscription plans including monthly, annual and semi-annual subscriptions.
Multilogin referral program allows you to invite new users by providing a personal discount code, which gives both parties bonuses equal to 50% of the subscription price. The discount amount is added to inviter's and invitee's accounts as credits (1 credit = 1 EUR) and is automatically applied to their next invoices.
The bonus amount is 50% of the price selected by an invitee.
If a subscription is cancelled during the first month and renewed after some time, this time will not be counted as a part of referral. An invitee needs to have the full subscription month to be eligible for credits.
How to send an invitation code
To access the referral program code, navigate to the "Invite & Earn" section of the billing dashboard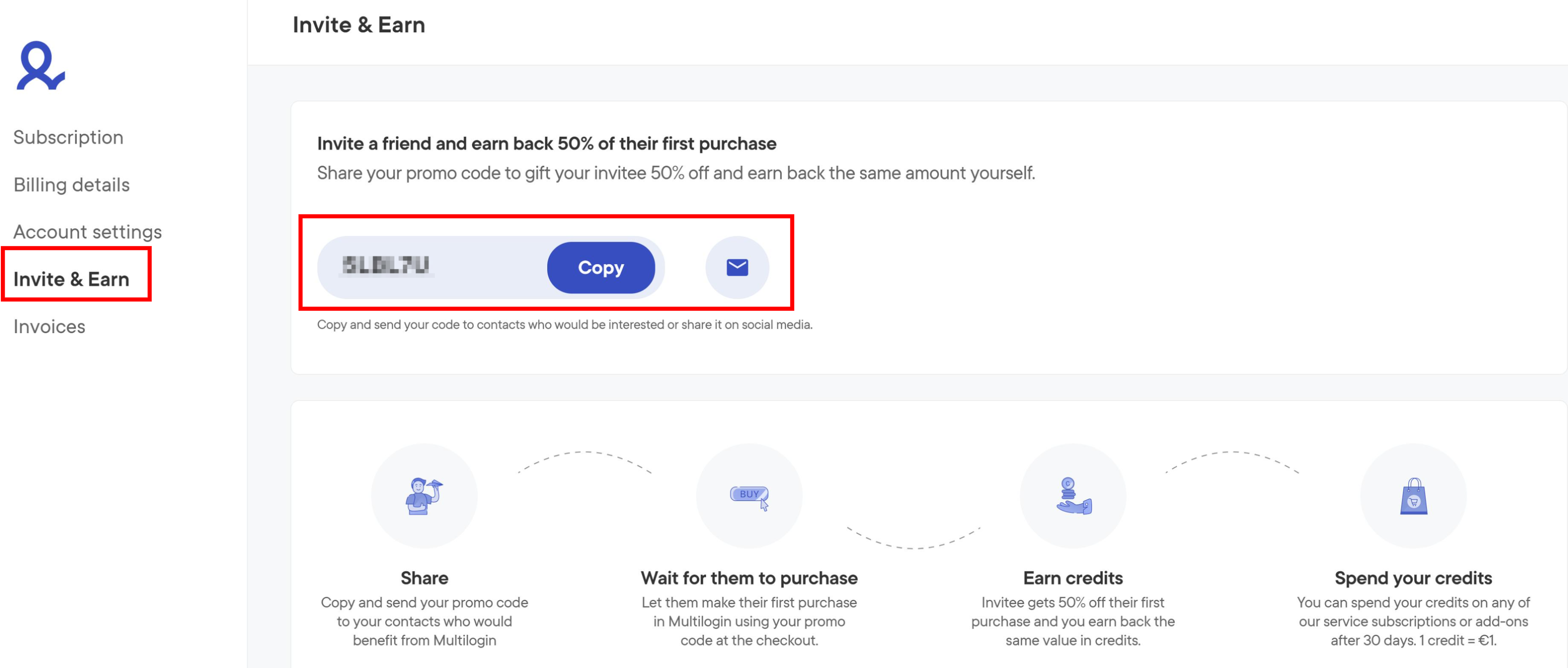 Copy the personal referral code and send it to your friend or colleague, or publish it on social media — there are no limits, feel free to invite more people and get more bonuses
Once someone makes a purchase with your code, you will receive an email notification
In 20 days after the purchase was made by the invitee, both of you will get an account credit that is 50% of the invitee's subscription price – the earned credits can be used for future subscription payments
To find the active/expired invitations list, scroll down to the "Invitation history" section. Here you can check the list of invited users and info about pending and added credits
Invitees won't be on your list unless they make their first payment.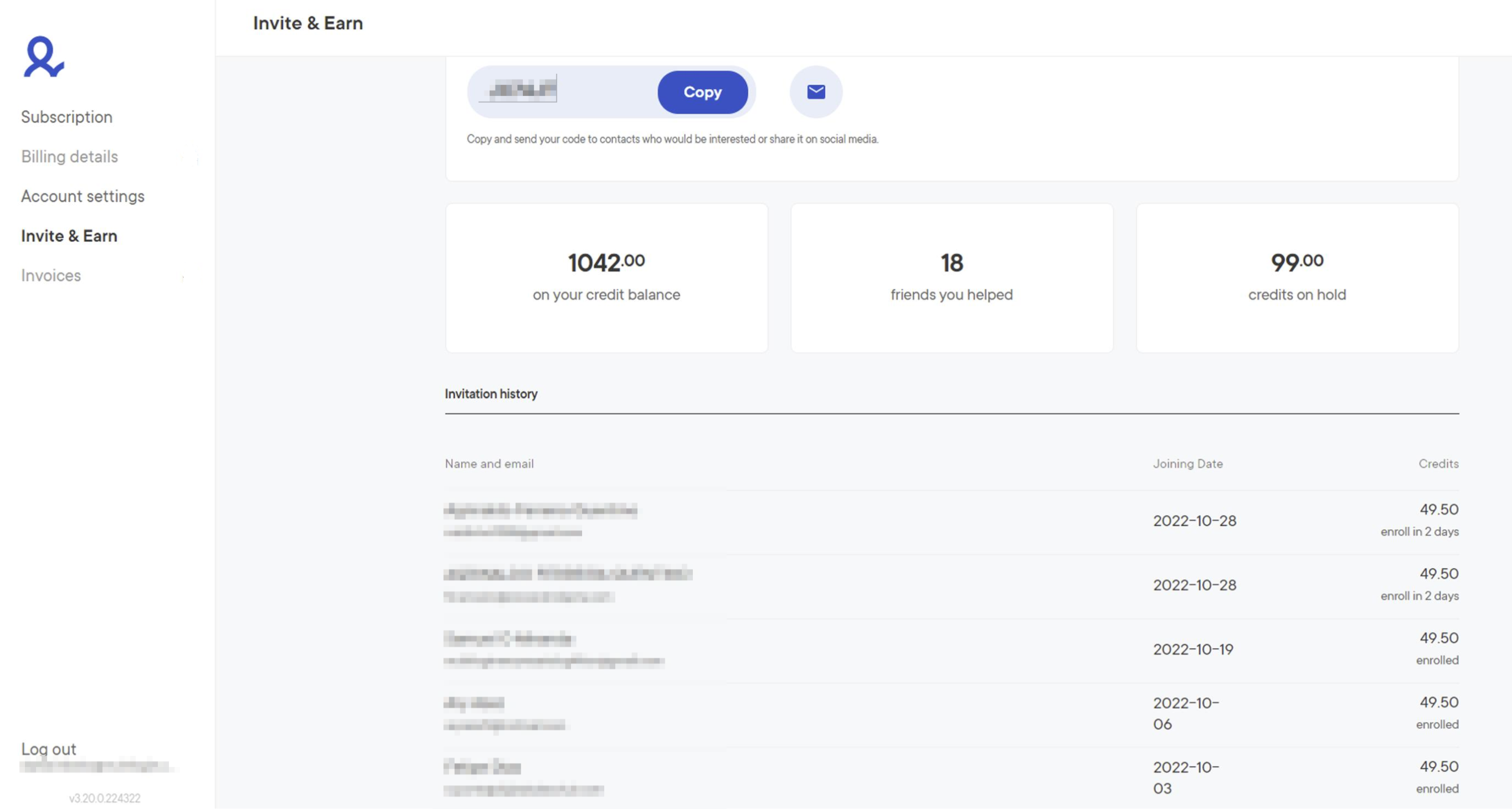 How to use a referral code
Referral codes can be applied to new users only.
Monthly/regular subscription plans
Download Multilogin and create an account
Open your billing account and navigate to the "Subscriptions" section
Choose the preferred plan

You will be redirected to the billing page details. Click "Add referral code"

Paste your code in the field and click "Apply"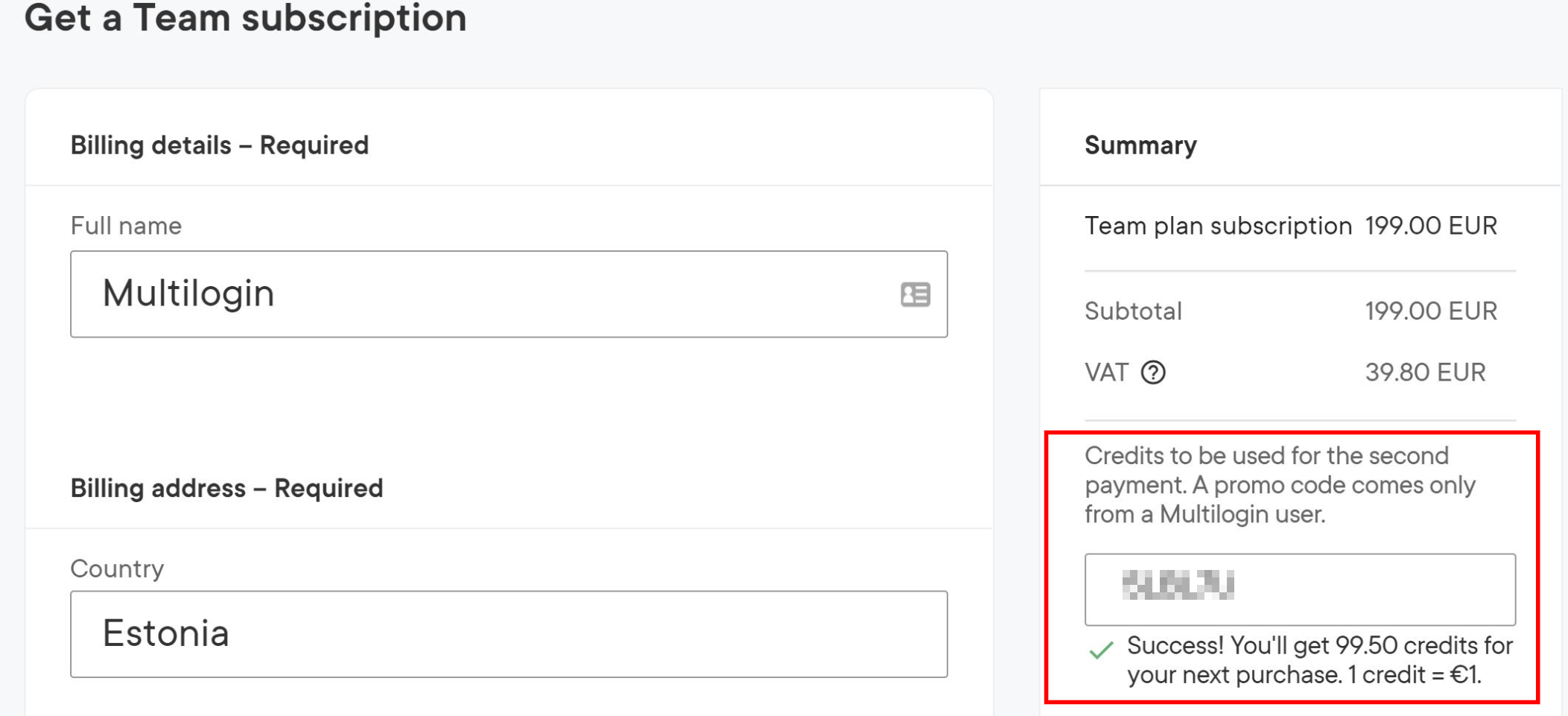 In 20 days after the subscription is activated, you and your inviter will get an account credit that is 50% of their subscription price – the earned credits can be used for future payments
After 2 months of successful payments, the invited users will also be able to invite other people.
Semi-annual/Annual/Custom plans
Create an account and login to the billing area
Do not choose any subscription!
Let the support team know the promo code you'd like to use (contact us by chat or email [email protected]), and we'll send you further instructions
Video on the topic
---
Check out our latest news, research, and tutorials
---
Has your issue been resolved?
---