Error: Your Windows system cannot perform the necessary APIs to launch the Stealthfox browser
If you encountered an error while working with Stealthfox browser as shown on the screenshot below, then we have a solution on how to fix it.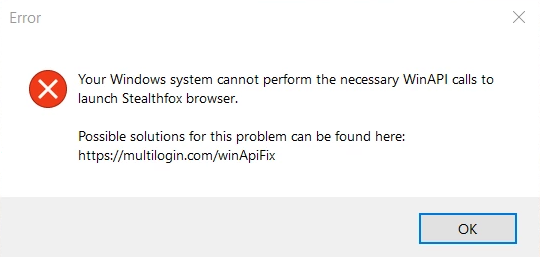 First of all, it is worth mentioning that the issue happens because Windows API cannot be utilized properly if the Windows user folder has non-Latin characters(Russian, Arabic, Chinese).
Here are some solutions on how to fix this issue:
First solution:
Log in to your Windows account by using another administrative account. Note that you might need to create a new Administrative account on your device first.
Go to the C:\Users\ folder and rename the subfolder with the original user name to the new user name.
Go to the registry and modify the registry value ProfileImagePath to the new pathname.
HKEY_LOCAL_MACHINE\SOFTWARE\Microsoft\Windows NT\CurrentVersion\ProfileList\<User SID>\
A note on <User SID>: the ProfileList registry key contains a number of sub-keys. To find out which one to change, click on each sub-key and examine the values, to find the sub-key with the right ProfileImagePath:

For example, let's say we want to get rid of the space in a user profile folder name. So in step 2, we use File Explorer to navigate to C:\Users and rename the John Smith subfolder to JohnSmith. And in step 3, we click on the <User SID> sub-keys until we find the one with ProfileImagePath C:\Users\John Smith, and change it to C:\Users\JohnSmith.
Second solution:
The second solution would be to create a new user with a name that contains only Latin characters and work with the software from this user or reinstall Windows and choose a Windows username that contains only Latin characters.
Third solution:
The third and final solution would be downgrading the software to version 4.5.3. Please note, in order to do that you will need to contact our customer support center, so we can provide you with the link to download the 4.5.3 version installer.
---
Was this article helpful?
---