Functionality
What is new in Multilogin X beta compared to Multilogin?
We are committed to delivering a range of exciting and long-awaited features to you, and our team works tirelessly to make it happen.
Some of them are already available with free access to Multilogin X beta –
sign up now
and be one of the first users to take advantage of new functionality!
New team member roles: take control of your team's access to browser profiles with our four new roles designed to meet your needs
Workspaces: separate your work projects and switch between them seamlessly
Trash bin: keep your account organized by moving browser profiles to the trash bin, where you can restore them if needed or delete them permanently to make space
As a web-based app, Multilogin X is just built differently – and provides a greater level of stability, faster operations and unmatched flexibility.
What is an agent, and why do I need it?
Think of an agent as a helpful app that runs behind the scenes, ensuring your browser profiles are functioning smoothly.
Why do I need an agent?
You need it to be able to launch browser profiles.
How do I use an agent?
After logging in, Multilogin X will prompt you to download, install, and connect an agent. If you have done this before, simply connect an agent to launch your browser profiles.
Can I do something without an agent?
Yes, without an agent you can do anything apart from launching browser profiles: manage team members, workspaces, groups, browser profiles themselves, and more.
Using API
API is available to all users during Multilogin X public beta testing. Check out our documentation to learn how to automate team member and profile management.
How does the trash bin work?
Manage your browser profiles in Multilogin X by deleting and restoring them from the trash bin. To free up space, account owners and managers can delete profiles permanently. Keep in mind that once a profile is permanently deleted, it can not be restored.
Are browser profiles in the trash bin counted towards my plan limit?
Yes. To free up space, account owners and managers can delete profiles permanently.
Using bulk actions
You can move profiles to groups and trash bin in bulk: just click the pencil icon in the top right corner and select the profiles you need on the left.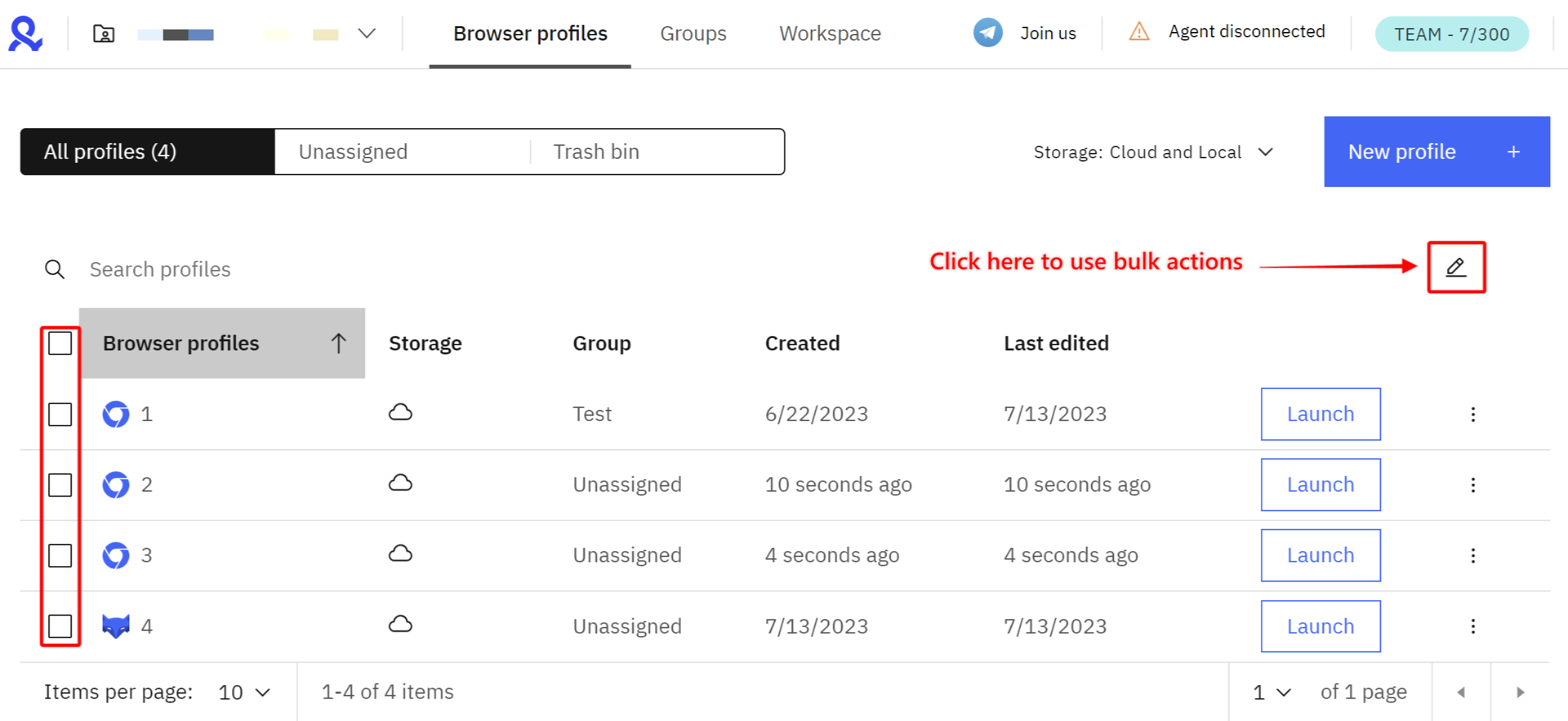 What is a workspace?
A workspace is a place where you and your colleagues can work on browser profiles together.
To join one, you need to register in Multilogin X first. Then the account owner will just need your email address to invite you to their workspace. Once you are in, you will have a set role and permissions that determine what you can do.
You can easily switch between your default workspace (where you are the owner) and other workspaces where you have been invited. This makes it simple to work on multiple projects with different groups of people.

Inviting team members to a workspace
To add a team member, you must be an owner or a manager, and the team member's email must be registered in Multilogin X.
Go to the "Workspace" tab
Click "Add team member"
Add a team member's email and click "Send invitation"
An invitation is sent to a team member's email address. Once they accept it, an account owner or a manager can assign them a role and allow access to groups.
What are the different team member roles?
Take control of your team's access to browser profiles in Multilogin X with our four new roles designed to meet your needs.
The main role in Multilogin X is called the owner – this is a master account holder who has complete access to all app operations. In addition, there are three more roles that define a specific set of permissions for team members: manager, user, and launcher.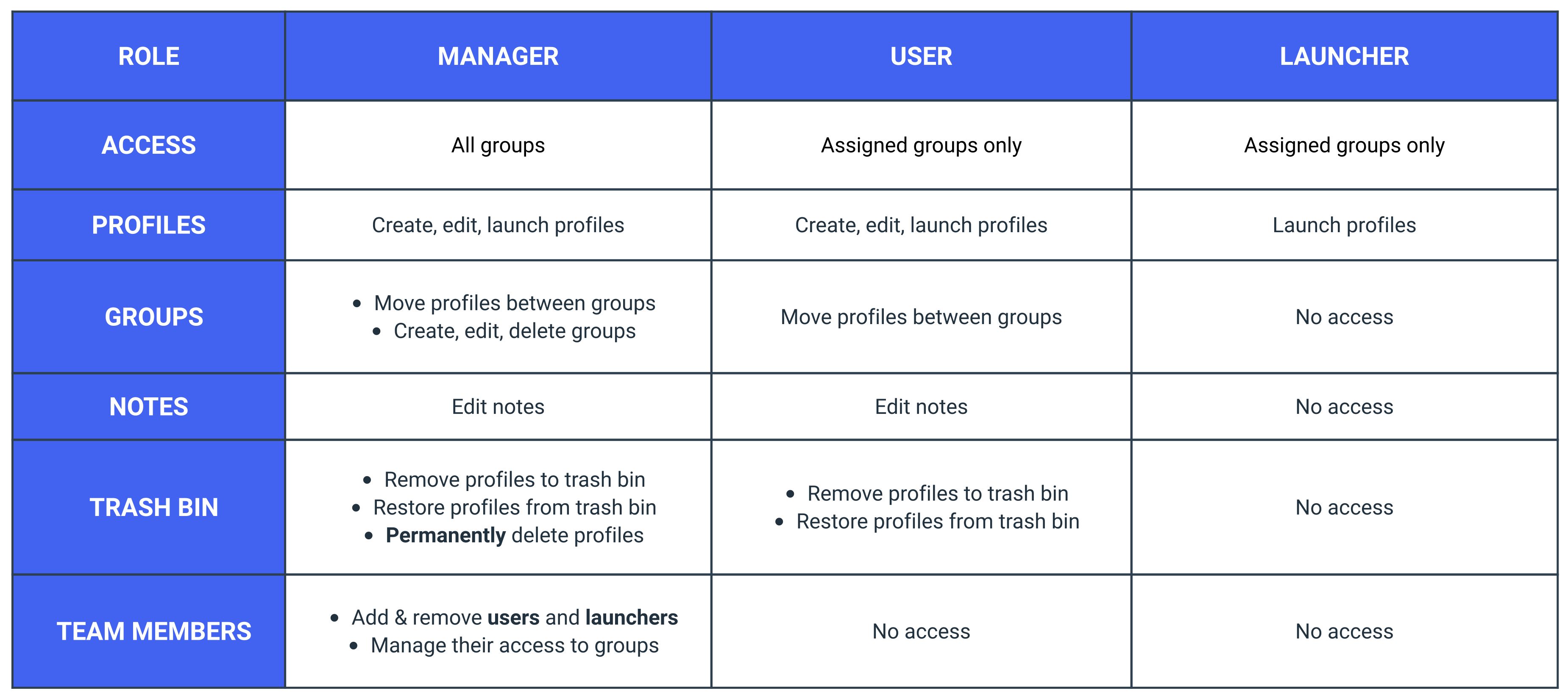 ---
Check out our latest news, research, and tutorials
---
Has your issue been resolved?
---