General questions
How can I start using Multilogin?
In order to start using Multilogin, you can simply download the app from our website here. Once the app has been installed, you can create a new account in the app by clicking "Create new account link".
Once you are in the app, you will need to choose the plan that suits your needs and proceed with a purchase through Subscribe now.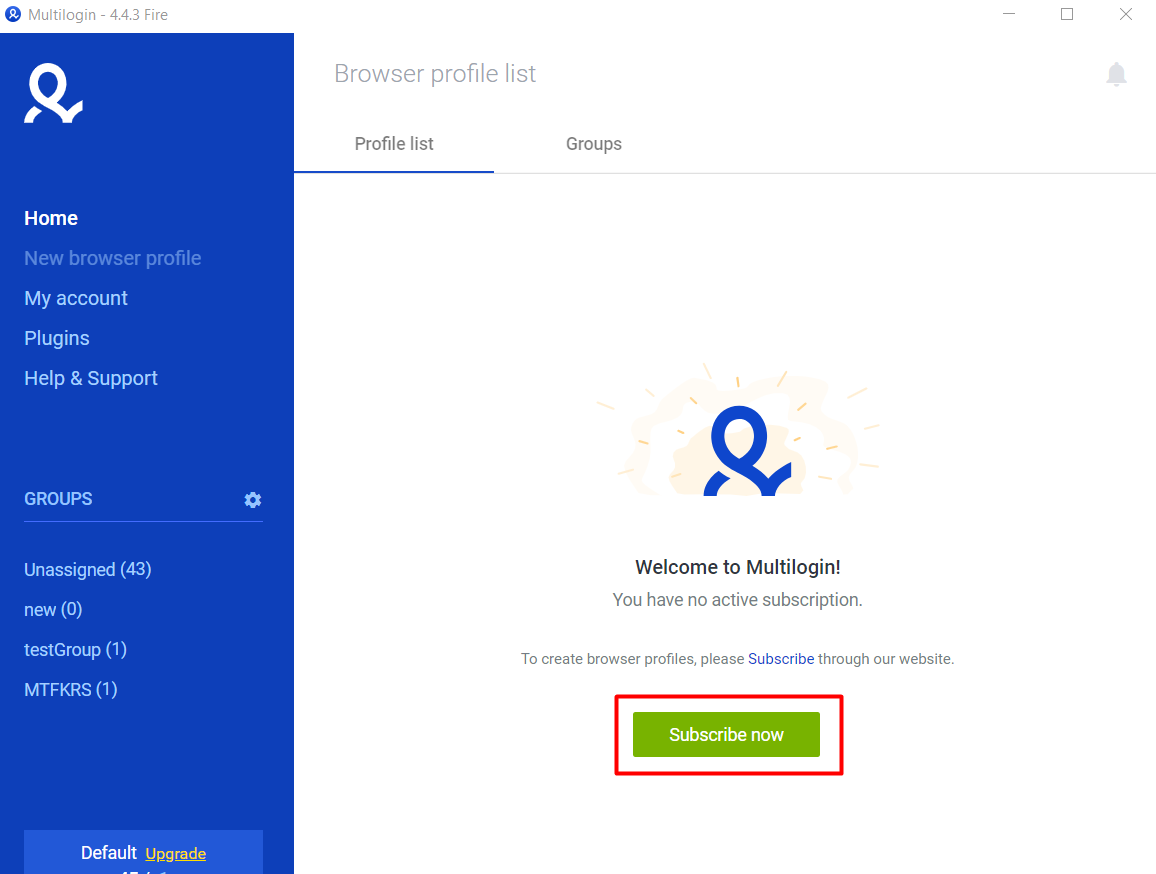 Do you offer any free plans?
On the 14th of November 2018, we removed the free subscription plan that was limited in features and capability. We replaced it with a free 10-day trial period with the maximum number of features. If you are curious why this decision was made, here is an announcement that answers this question.
UPDATE (Nov 5, 2019): new trial sign-ups have been temporarily disabled.
Which Plan is best for me?
The price and the description of each of our plans can be found on our pricing page. In case you are not sure which plan is best for you, please contact [email protected], and we will happily help you choose the plan depending on your needs and wishes.
What is the difference between Collaboration and Automate plans?
Collaboration plans are designed to make working in a team easy and convenient. The Collaboration plans include collaboration features like Active Session Lock, which prevents people from accessing the same profiles if they are already running. The ability to share and transfer profiles is also unique to Collaboration plans.
Automation plans are helpful in automating different tasks in Multilogin as well as in browsers that come with it. The Automate plans give you access to automation features (APIs, RestAPI and browser automation such as Selenium and Puppeteer). They are available in all Automate plans and the Scale plan in the collaboration module.
Since the automation plans profiles will be stored locally in the near future, there will be no limit to how many sessions you can have. It also means you will not be able to use one Multilogin account on multiple machines. For now, since the profiles are still stored on the cloud, there is a temporary limitation of 1000 profiles.
How can Multilogin help my business?
Multilogin is a tool that allows you to run multiple browser profiles with unique settings that look like different devices to websites online. What makes it great, is the fact that you don't have to set up virtual machines, but simply run everything from your own computer. Multilogin is particularly useful when you need to run multiple accounts simultaneously on different social networks and most popular websites.
Do you have an affiliate program?
At the moment, we do not have an affiliate program, but please feel free to contact [email protected] for an alternative solution.
---
Was this article helpful?
---