General questions
How can I start using Multilogin?
In order to start using Multilogin, you can simply download the app from our website here. Once the app has been installed, you can create a new account in the app by clicking "Create new account link". You will automatically get a free Solo trial for 10 days to get familiarized with the software.
Do you offer any free plans?
On the 14th of November, we removed the free subscription plan that was limited in features and capability. We replaced it with a free 10-day trial period with the maximum number of features. If you are curious why this decision was made, here is an announcement that answers this question.
How long does the trial last?
The free trial is given for 10 days. Once it expires, you will need to purchase one of our plans to continue using Multilogin.
What if 10 days is not enough?
Based on our research and experience, 10 days are enough for new users to get to know the capabilities and features of Multilogin. Users can already start their business during the trial for free. However, if you think 10 days are still not enough for you, please contact us by support@multilogin.com. Let's have a discussion there and we may be able to extend your trial for some additional time. 
How do I purchase a subscription after the trial period?
You can upgrade to one of our paid plans from the Multilogin app. Just click on the "Upgrade" link in the bottom left corner and follow the instructions on the screen.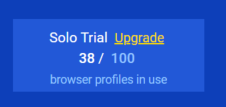 ---
Was this article helpful?
---